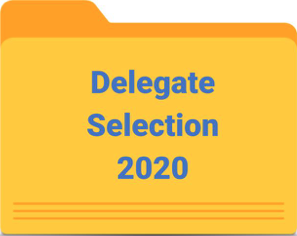 In the altered reality of COVID-19, the Democratic election picture is coming into focus! To get either Joe Biden or Bernie Sanders to the White House, Democrats have to nominate one or the other. Here are the steps ahead for us in Virginia:
First, we Rapp Dems have to our select delegates to represent either Bernie Sanders or Joe Biden to ultimately go to the National Democratic Convention. Rapp has been allocated one Biden delegate and one Biden alternate delegate (to fill in if needed), and one Bernie delegate. Now we have to pick those delegates.
In normal times, Rapp Dems step up to become delegates and we'd hold a caucus at the Library to elect them them. Because of restrictions brought on by COVID-19, this year we'll hold a virtual caucus.
Here's what you need to do:
If you want to be a delegate or alternate for Bernie or Biden, submit this pre-filing form to the Democratic Committee of Virginia by April 9. You'll need to pledge to one candidate.
To participate in picking the delegates (and we hope EVERYONE will!), submit this form to the Democratic Committee by April 9.
After April 9, the DPVA will let us know who has applied to be a delegate and who wants to participate in selecting delegates.
Then on April 20 we will hold our virtual caucus. All registered participants will receive an emailed ballot, which they will email back to us. We then notify the winners and send our results back to the DPVA.
On May 9 is the 5th Congressional District Convention to whittle down the local delegates to those who will go to the State Convention. This will also be held virtually. (Details to come.)
June 9 is the State Convention, where delegates will be picked to go to the National Convention. Chances are good that we'll have to find a way to hold a virtual convention.
July 13-16 is the National Convention.
The DPVA and DNC are working hard to make the nominating process safe, inclusive, and transparent. The situation is still fluid, but now is the time to get involved! 
It's never been easier!
Questions? Email chair@RappDems.org or call 540/987-8912